BierCraft Bistro, formerly named Stella's, is a restaurant that offers a variety of beer selections.
I have always been curious about this place, but the only time I visited was for desserts. Therefore, for LT's birthday, I decided to pick BierCraft Bistro as the location.
Complimentary Chips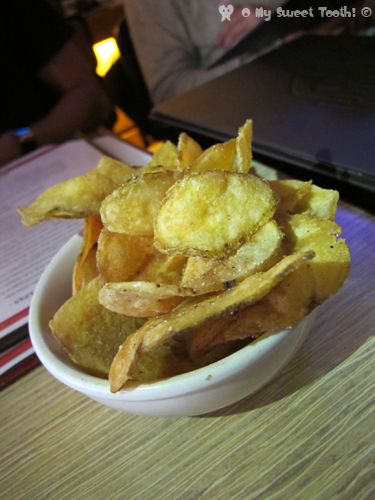 They served us complimentary chips rather than the usual bread, and it was some pretty good chips. They were similar to Miss Vickie's potato chips both in flavour and texture.
Mort Subite Framboise






Thick raspberry aroma. Flavour is fruity and sweet throughout. Ends sweet, yet slightly dry.
$13.00
I don't usually like drinking beer, but I love fruit beers, because they taste just like fruit-flavoured pop! The raspberry beer wasn't as sweet as I would like it to be, but the raspberry aroma was very strong.
Mort Subite Framboise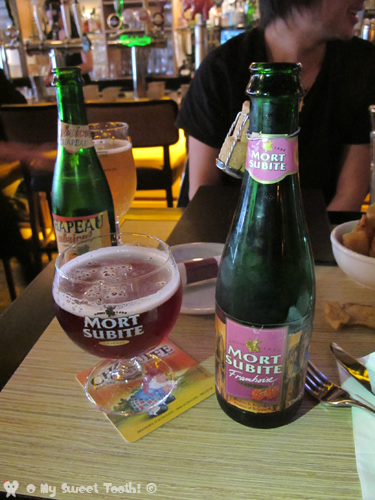 They also come in very unique bottles, although the prices are very steep!
Chapeau Apricot Lambic






Taste is very sweet apricots, some spice and a bit of tartness. The finish is similar to the syrupy fruitiness of canned fruit.
$13.00
LT's apricot beer was a pretty girly drink hahaha. It was almost just like apricot juice. I liked it a lot! I am totally going to order it next time!
Gulden Draak
A strong dark ale with chocolate and coffee overtones. Aroma of sugary yeast, caramel, malt and alcohol.
$9.75
I am not particular fond of dark ales as they are usually more bitter. I couldn't really taste any of the chocolate and coffee overtones from the one sip that I took.
Calamari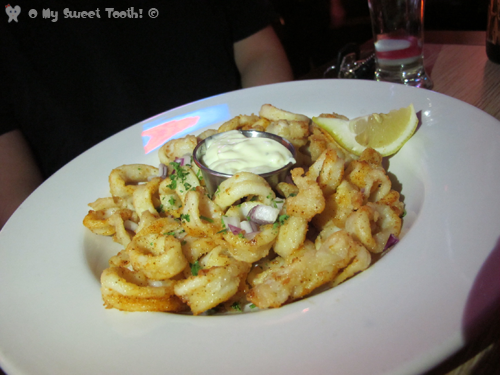 Flash fried calamari, key lime & chili dusted, cilantro citrus aioli
$11.00
The Calamari was pretty standard. It could've used a little more batter so it would be more crisp.
Warm Tuna Nicoise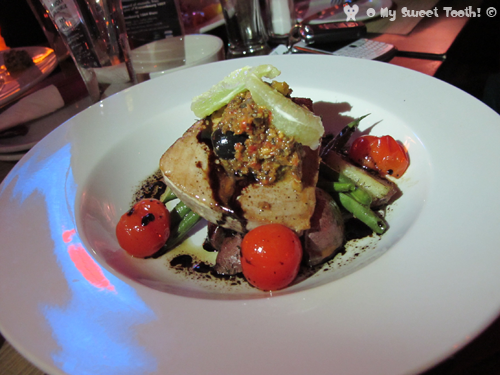 Seared Yellowfin tuna steak, green beans, mini red potatoes, cherry tomatoes, olive tapenade, balsamic glaze
$20.00
I don't remember much from this main except that it tasted kind of like chicken. I don't know why but cooked tuna always taste like chicken to me.
Wild Mushroom Penne






Seasonal exotic mushrooms, roasted garlic, fresh thyme in a citrus cream sauce
$20.00
The pasta was very flavourful and cooked to just the right texture. It would be even better if the sauce was infused with mushrooms somehow too. Please excuse the blurry picture. It's hard taking pictures in a dark restaurant!
Forgot what this was...
Madrid Mussels (1 lb)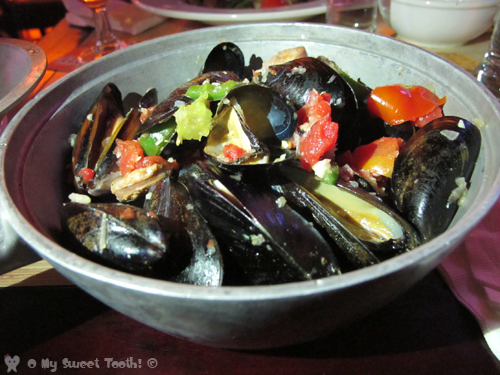 Chorizo sausage, plum tomatoes, white wine, serrano chilis
$15.50
I ordered the Madrid Mussels, which came in a very savoury broth with a hint of spiciness. It was slightly over-salted, but I suppose if you eat it with bread or Belgian fries it would've been fine. The mussels were a bit disappointing because they were not plump enough. For quite a few of them, they were stringy when I tried to take the meat off from the shell. The plum tomatores and Chorizo sausage really enhanced this dish though!
Chocolate Torte






Gluten free Belgian chocolate torte, creme Anglaise & caramel sauce
$7.50
This was given to LT on the house, since it was his birthday. They normally serve this on their menu too. This was surprisingly very good! The torte wasn't too sweet yet it wasn't bitter from the dark chocolate. The caramel sauce was also light on the sweetness. The texture of this was almost like a mixture of truffle and chocolate. I would totally order this again!
I forgot to take a picture of the dessert by itself so I have to block LT's face hahaha!
♥ Elaine XOXO
BierCraft Bistro
3305 Cambie Street
Vancouver, BC
View Map