Dragon Ball Tea House has the reputation for the best BBT in Vancouver. I would say it's quite true! Their fresh fruit drinks are just too awesome. Too bad it's not located in Richmond, so it's a bit far for me to go for casual hangouts.
新鮮草莓芒果冰沙(有牛奶)
Fresh Strawberry & Mango Slush (W/ Milk)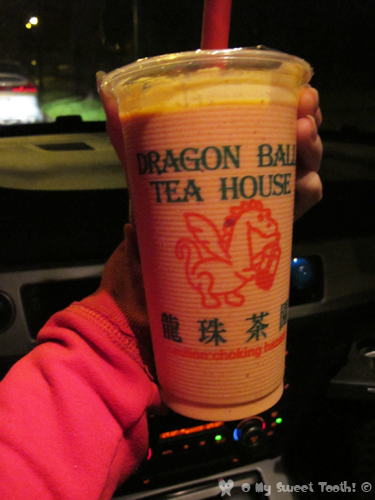 Since it's inconvenient to come, I always drop by for a BBT whenever I am driving around that area LMAO!
This is definitely my favourite drink! They have the perfect amount of milk to fruits to ice ratio! The blend was very creamy and smooth; not too sweet and with a tangy flavour from the strawberries.
新鮮芒果冰沙(有牛奶)
Fresh Mango Slush (W/ Milk)






Well this was a little bit sweeter than the previous one because there were no strawberries, but still super awesome!
熱蜂蜜綠奶茶
Hot Honey Green Milk Tea






This was the only fail drink I have ever had here. It was not sweet enough even when I asked for extra sugar syrup. It was just very watered down. I should've ordered their slushes but I was way too cold at the time x_X
日本綠茶(有雪糕)
Japanese Green Tea (W/ Ice Cream)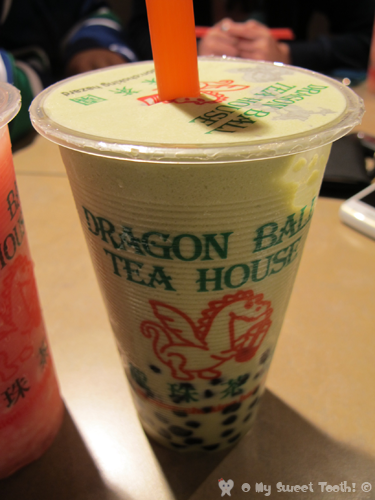 Again, this was fantastic. Super creamy and rich! Loved it! Although I was never a tapioca pearl fan, I now understand why people rave about Dragon Ball's tapioca pearls. It was very chewy and soft. Not like those bad stale ones that taste kind of sour =P I might actually order them next time!
新鮮西瓜荔枝冰沙(沒牛奶)
Fresh Watermelon & Lychee Slush (No Milk)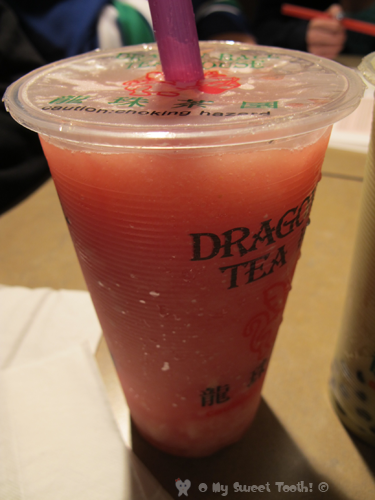 Whenever I go to BBT places for fresh fruit drinks, I always stick with the mango and strawberry flavours. And it's not that I don't love other fruits, I just don't like to try new things I think? GT's drink is something that I would never have ordered if I came here by myself, so I am glad that I tried it! It was a lot lighter than the milk slushes that I usually order. There were real chunks of lychee in there. It's definitely a refreshing drink for the summer!
I love this place! The only problem is that I never know what to order because everything is good XD
♥ Elaine XOXO
龍珠茶園 Dragon Ball Tea House
1007 West King Edward Avenue
Vancouver, BC
View Map