Hehehe ignore my lame title ♥ Here's my search of the best hot chocolate in town!
Damn this freezing Vancouver winter! I
NEED
to immigrate back to Hong Kong! Every single day is like a torture to me because I am super sensitive to the cold. I am wrapped like a big, round ball walking around campus every single day =___= This weather is seriously murdering me! I have never drank so much hot chocolate in my life! It feels so much warmer to have a hot drink in hand, except it kills my wallet too...
Starbucks (UBC SUB), Vancouver
Salted Caramel Hot Chocolate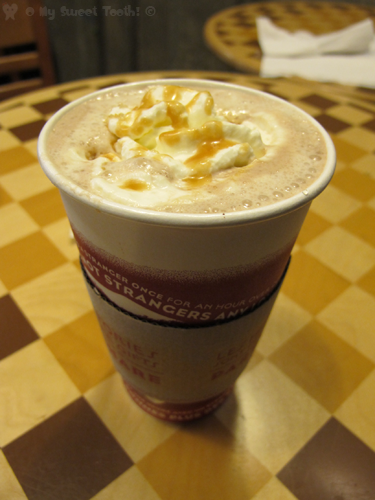 Everyone raves about Starbucks' hot chocolate. It's just more rich and creamy than the ones you can normally make at home, but not the chocolate-y type I prefer. Their Christmas specials sounded interesting so I decided to try the Salted Caramel Hot Chocolate, thinking it wouldn't be too sweet. Aside from those sprinkled on top of the whip cream, I really couldn't taste any salt. It was still too sweet for my liking...
Salted Caramel Hot Chocolate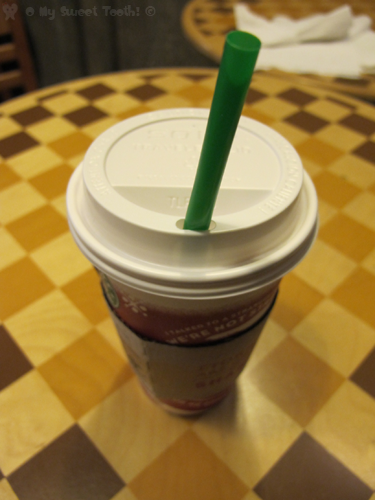 This is the
BEST
way to drink a hot drink while walking around campus, trust me! You won't get it spilled on your scarf nor will it dirty your lips or wipe off your lipstick.
Starbucks
6138 Student Union Boulevard (UBC)
Vancouver, BC
View Map
JJ Bean (Davie), Vancouver
Apparently JJ Bean is rumoured to have the best hot chocolate in town, and since it's on the way to the dance studio, BM and I stopped by.
Early Grey Tea
BM ordered Earl Grey Tea, which I am not an expert at, so no comments.
Banana Bread
Banana Bread was way too sweet, but that being said, I don't like banana-made products in general...
Their hot chocolate is not listed on their menu, I am not sure why. It was really creamy and foamy, almost like a better version of Tim Hortons' Hot Smoothie. I did like it despite it being really sweet, but again, not the chocolate-y type.
JJ Bean
402 Davie Street
Vancouver, BC
View Map
Blue Chip Cookies, Vancouver
I have had two complete different experiences at Blue Chip Cookies, so I am quite confused! I went there a
THIRD
time just in case hahaha!
The first time I had their Hot Chocolate, it was real nice. It almost tasted like melted chocolate and you can tell it's not made from powder. However, it is also the sweetest out of all the ones I have tried. I don't mind though, because I think too rich or sweet is always better than watered down!
When I returned another day, the quality was way off. Were they even from the same place? It tasted like watered down expired powder. What the heck? I can make better ones at home! When I was getting a straw, I noticed that they were covered with dust, kind of gross. I wish they wrap it like Blenz or Starbucks. So I ended up stealing a straw from Starbucks instead LMAO!
Apparently they have a Specialty Hot Chocolate which is probably equivalent to flavour shots at Tim Hortons. In my case, I chose hazelnut. This try was like a mixture of #1 and #2. While it wasn't watered down, the powdery taste retained. I really dislike that taste, but I don't know how to describe it. The faint hazelnut flavour did make it a little more acceptable. I think it might be a personal preference issue. There was not whip cream because I asked for it without, but sometimes I forget to request if they don't ask me. I think I will just stick with getting their delicious cookies!
Blue Chip Cookies
6138 Student Union Boulevard (UBC)
Vancouver, BC
View Map
Blenz Coffee (Davie & Granville), Vancouver
While I always drink hot chocolate, I am still not a big fan of it. This is due to the fact that with any hot chocolate, there's always a bad sweet after-taste that I dislike lingering in my mouth. I can't describe it. I am glad that BM introduced me to the hot chocolate at Blenz! Best I have ever had ♥ ♥ ♥
Belgian Milk Hot Chocolate






Wow, I think I just found the love of my life, LMAO! The rich Belgian Milk Hot Chocolate tastes like chocolate truffles. It wasn't too sweet at all and I won't get the disgusting taste in my mouth after drinking it. Super awesome! I wish I could drink this everyday but it's so expensive!
Belgian White Hot Chocolate






Surprisingly, the Belgian White Hot Chocolate was way less sweeter than my expectation. Unlike many drinks that "claim" to have white chocolate but just tastes like a pound of syrup, this actually has a prominent vanilla white chocolate taste to it.
Blenz Coffee
700 Davie Street
Vancouver, BC
View Map
Blenz Coffee (UBC Village), Vancouver
I hate how there are no convenient locations of Blenz at the UBC main campus. Starbucks probably have some sort of agreement with the university so they can have some degree of "monopoly". This sucks because I have to walk
ALL THE WAY
to the UBC Village to get my favourite hot chocolate!
Belgian Milk Hot Chocolate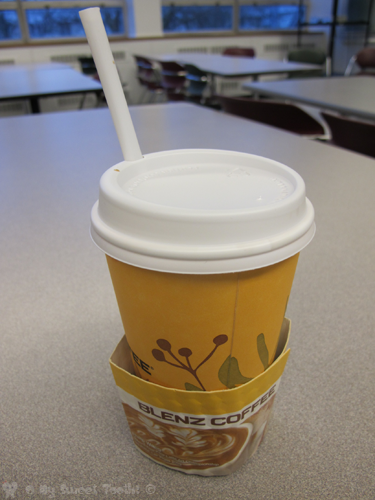 Unlike Blue Chip Cookies, execution at Blenz is pretty consistent, which is good. It's also noteworthy that the prices actually increase as you decrease the cocoa content in the hot chocolate. I have no idea why. I thought dark chocolates are usually more expensive? The Belgian Dark Hot Chocolate is actually the cheapest of the three! Note: They have now changed the prices to all the same for each kind of hot chocolate!
Blenz Coffee
5784 University Boulevard (UBC)
Vancouver, BC
View Map
Waves Coffee (Steveston), Richmond
Since I have been to most of the chain coffee shops, it made sense to visit Waves as well. I have heard that they serve a very similar kind of hot chocolate as Blenz since they are both "Belgian". On a side note, the location in Steveston appears to be a great studying place, a lot more roomy and comfortable than the two Blenz Coffee's in Richmond.
Belgian Milk Hot Chocolate






Again I am not sure if it was an execution problem, the one I had tasted more like white chocolate than milk chocolate. It was very light, almost like flavoured vanilla milk. It was good nonetheless, but I would've preferred a heavier taste.
Waves Coffee
#120-12231 First Street
Richmond, BC
View Map
Tim Hortons (UBC Trek Express), Vancouver
I used to always get the Hot Smoothie from the Tim Hortons near the Commerce building since it's close to my classes. I don't really like coffee because I find it bitter, thus Hot Smoothie is a great alternative although it's
SUPER
sweet. I usually add a hazelnut flavour shot to anything at Tim Hortons just because I love hazelnut-flavoured stuffs, although I am not sure if it made a difference in the taste of my drinks...
Tim Hortons
2015 Main Mall (UBC)
Vancouver, BC
View Map
Tim Hortons (Davie), Vancouver
Like Starbucks, Tim Hortons engaged in some holiday spirits by introducing Christmas drinks. BM got the Candy Cane Hot Chocolate, which I suspect the candy cane portion was merely the ones sprinkled on top. Other than that, it was basically like their normal hot chocolate, $1 more expensive =S Their hot chocolate tastes like the ones you can make at home by adding a lot of cocoa powder, but it was more rich. Not bad!
Tim Hortons
756 Davie Street
Vancouver, BC
View Map
Wow, after writing this post, I couldn't believe how much hot chocolate I have consumed within the span of like two months. No wonder my diet plan fails miserably >=(
There are two of them that I would probably prefer more than the other ones:
Best Tasting:
Belgian Milk Hot Chocolate from Blenz Cofee
Best Value:
Hot Chocolate from Tim Hortons
The one from Blenz Coffee is a bit too expensive for drinking every single day, and the one from Tim Hortons has the best price and a decent taste.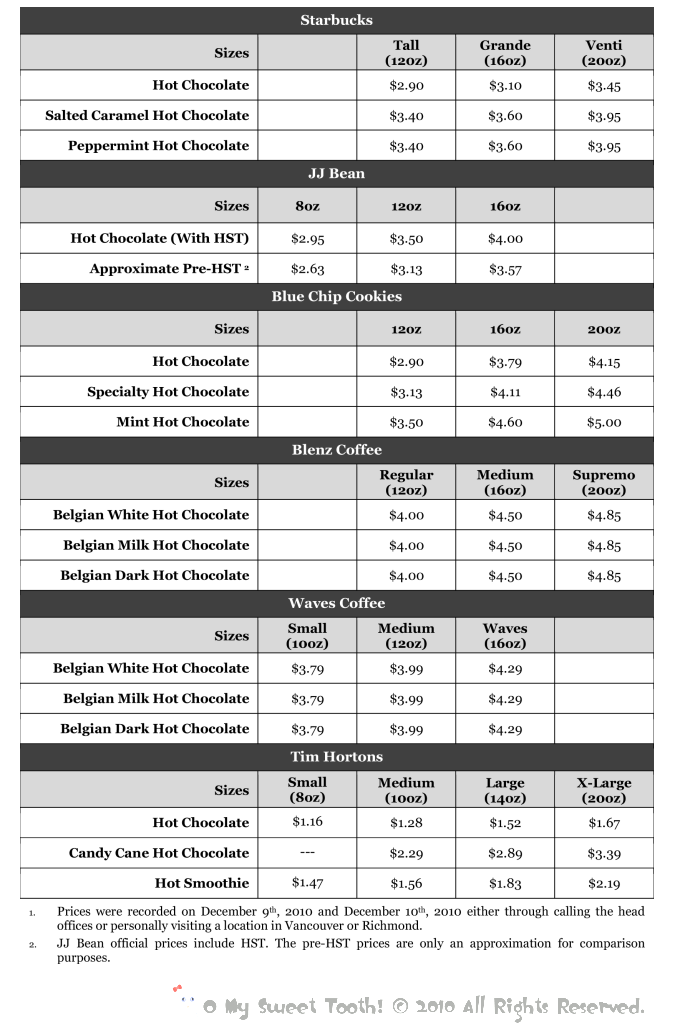 Here is a list of prices that I have compiled either through calling the head offices or personally visiting a location.
Click on the picture for detailed view.
I would say most of the people I talked to were really nice about it, except for one. I am not a professional or anything but you don't have to react as if a "food blogger" is some kind of joke.
♥ Elaine XOXO